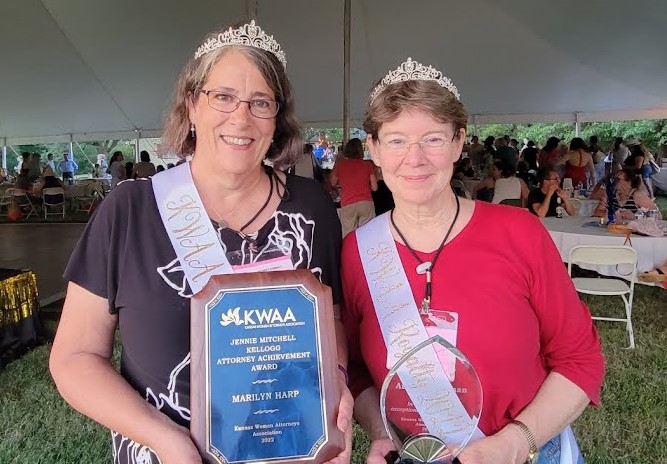 Marilyn Harp and Ann Zimmerman pose for a photo after receiving their awards.
This July, KWAA held its 33rd Annual Conference, at which two members received awards for distinguished careers in law. Ann Zimmerman took home the Carol Foreman Medal of Civility while Marilyn Harp received the Jennie Mitchell Kellogg Attorney Achievement Award.
The Carol Foreman Medal of Civility is awarded to a KWAA member who has consistently carried out their professional actions and duties as a lawyer or judge with civility, ethics, and respect for others at all times; and who unequivocally serves as an example of dignity and honor to the profession.
In the presentation of the award, member Gabrielle Thompson described longtime friend Ann Zimmerman as someone who exemplifies dignity, honor, and respect, even under great provocation. With calm and respectful diplomacy, Ann has promoted civility and justice throughout the bar while advocating for her clients or her cause. Also involved in putting together the presentation of the award was Carol Boorady, who along with Gabrielle have long benefited from Ann's loyalty, discernment, and mentorship. Ann is also a civil servant, as a member of her local school board in Salina, Vice President her local League of Women Voters chapter, a mediator, a domestic case manager, and a Sunday school teacher. She was instrumental in establishing a restorative justice program, Saline Initiative for Restorative Justice, for juvenile offenders that promotes victim restitution and education on civic responsibility as an alternative to prosecutions. Ann is also known for her musical endeavors, including her own concerts and albums as well as hosting local concerts. In her acceptance speech, Ann encouraged her fellow KWAA members to take conflict resolution classes and to always speak to opposing counsel with respect.
The Jennie Mitchell Kellogg Award goes to an individual who has achieved professional excellence, influenced other women to pursue legal careers, opened doors for women lawyers in settings that were historically closed to them, and advanced opportunities for women within a practice area or segment of the profession.

Marilyn Harp (center) poses with presenters (left to right) Justice Carol Beier, Carol Boorady, Martha Hodgesmith, Gaye Tibbets, Christine Ladner, Christy Campbell Ellen Bertels, Candice Farha, Sara Zafar, Amanda Stanley, Michelle Ewert, and Raye Ann Tucker.
In keeping with the spirit of the award, Ms. Harp's award was presented by 13 women lawyers who have witnessed her contributions to the advancement of their own careers and other women lawyers. Marilyn has worked for Kansas Legal Services for 40 years, including the last 16 years as executive director. She is set to retire from KLS at the end of the year. During her time as executive director, she has managed multiple offices with a total of 111 employees as well as her own caseload. Most of her hires have been women who, like her, are dedicated to their roles as public servants. Marilyn accommodated her employees' pregnancies and breastfeeding needs long before such accommodations were commonly made. The presenters uniformly agreed that she set an example for the women attorneys who came after her. She has also been active in numerous bar associations and served as adjunct faculty at the University of Kansas School of Law. The presenters shared a number of anecdotes about Marilyn throughout her career.