Officers
Officers are selected by KWAA's voting membership at our annual meeting in Lindsborg, Kansas. The officers make up the Executive Committee.
Audrey Lee
President
Salina Health
Education Foundation
Salina, KS

Sarah Morse
President-Elect
Federal Home
Loan Bank
Topeka, KS

Kim Honeycutt
Past President
Bayer U.S., LLC
Shawnee, KS

Whitney Casement
Secretary
Goodell, Stratton,
Edmonds & Palmer
Topeka, KS

Ellen O'Leary
Treasurer
UnitedLex
Overland Park, KS

Marilyn Harp
Assistant Treasurer
Kansas Legal Services
Topeka, KS
---
KWAA Council
The Kansas Women Attorneys Association Council, which is KWAA's governing body, is made up of its officers, committee chairpersons, and district representatives.
---
Committee Chairs
KWAA's President appoints the chairpersons of all standing committees, which include the following: Membership and Communications, Public Policy and Gender, Outreach and Education, Small Firm and Solo Practice, Archive, Minority Women in the Profession, and the Annual Conference.
Membership and Communications
Shaye Downing
Public Policy and Gender
Laurel Michel
Small Firm and Solo Practice
Angel Zimmerman
Larry Zimmerman
Outreach and Education
Eunice Peters
Ivery Goldstein
Annual Conference
Lauren Hughes
Kate Duncan Butler
Minority Women in the Profession
LeTiffany Obozele
Danielle Hall
Archives
Marie Landry
---
KWAA District Representatives
KWAA has 11 districts throughout the state, as shown in the map below. Each district has at least one representative, appointed by KWAA's President.
Interested in serving on the KWAA Council? Contact us at This email address is being protected from spambots. You need JavaScript enabled to view it.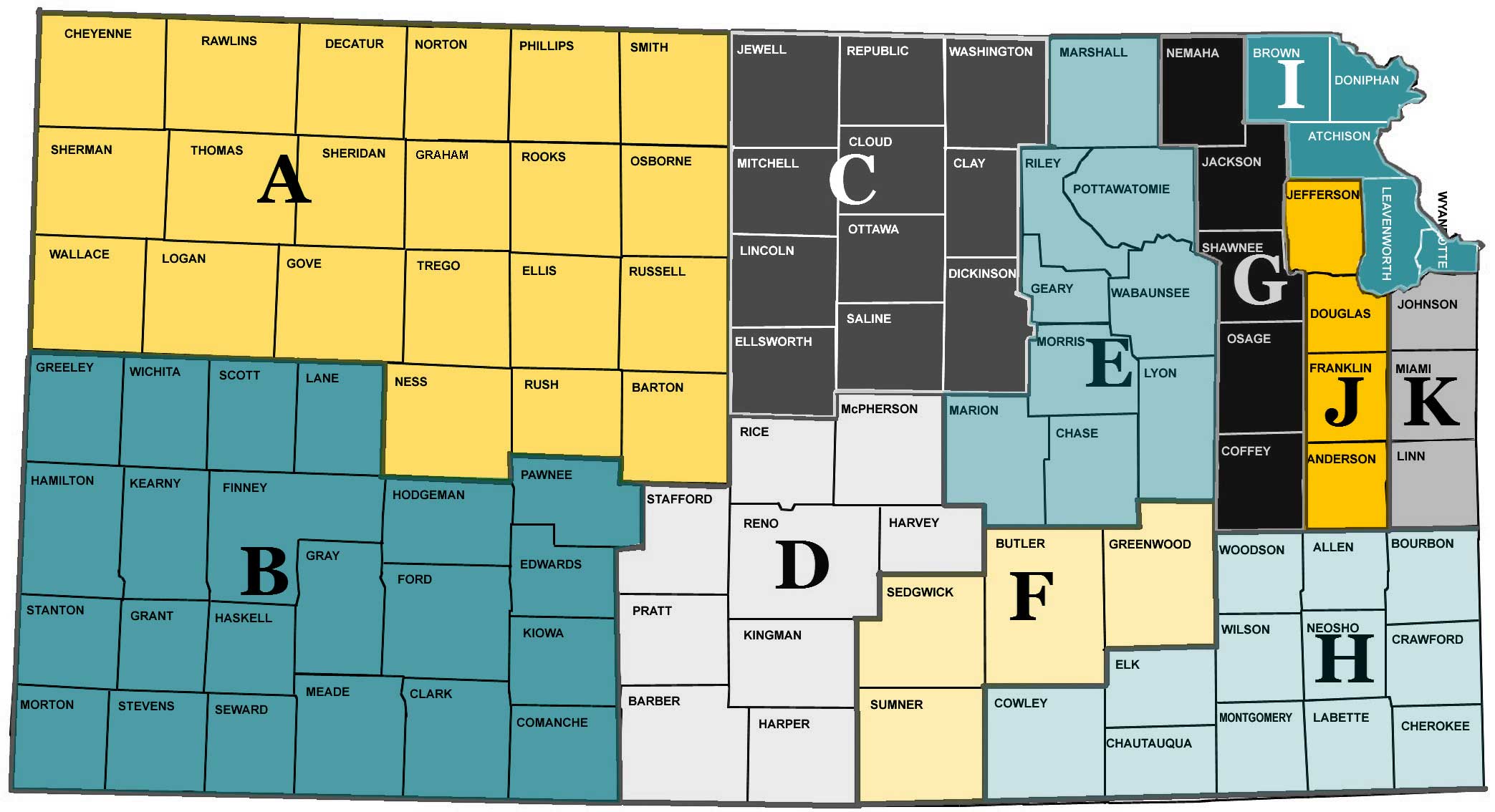 District A

Etta Walker
Hon. Rene Henke

District B

Lara Blake Bors

District C

Angie Coble
Ann Zimmerman

District D

Dell Swearer
Gaye Tibbets

District E

Amy Bipes
Tracy Bamberger

District F

Kellie Hogan
Linda Parks

District G

Nicole Revenaugh

Jennifer Cocking

District H

Lisa Montgomery
Karen Miller



District I

Amy Walters
Rae Sedgwick
Pamela Campbell Burton

District J

Hon. Bethany Roberts
Hon. Sally Pokorny

District K

Gabe Beam
Linda Krebs
Niki Piskuric